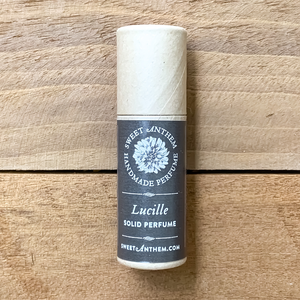 Sweet Anthem Perfumes
Lucille - linden blossom, earthy amber & tonka bean...
The Story
*Solid Perfume Pictured
Perfume inspired by an old Germanic ballad, the linden-maiden rests beneath an illuminated grove. Night blooming blossoms fastened in her hair. Surrounded by the memory of amber clouds and vanilla fields, the linden-moth takes flight. Off they climb together through the sweetly scented air. 
And of course, all perfumes from Sweet Anthem are vegan, have an organic base, are phthalate free and are made by hand in small batches. 
Fragrance Notes
| | |
| --- | --- |
| Head Notes | Sea Salt |
| Heart Notes | Jasmine, Linden Blossom |
| Base Notes | Amber, Rosewood, Tonka Bean |
*Sometimes known to create a whimsical sense of freedom. 
---
More from this collection